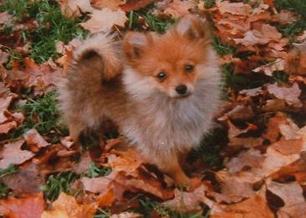 Located in East Central Wisconsin
Pomeranian's have been apart of our family since 1986, and the love for the breed began with a tiny girl named "Abby'' (left).
Since then, the funny little personalities of these dogs have captured our hearts.
Our goal has been to bring out the finest qualities of the breed and to develop our puppies characters in a nurturing home environment from birth.
All of our puppies are AKC registered with Champion in their lines, including Buea James, WeeHearts, and others! We offer limited registration and full registration prices. Take a glance at our available page to see if we currently have any sweet, tiny, precious babies.
We want all our puppies to be placed into a loving and nurturing family home only.
---
~~~~~~~~~~~~~~~~~~~~~~~~~~~~~~~~~~~~~~~~~~~~~~~~~~~~~~~
Psalm 143 : 8
Cause me to hear Your loving kindness in the morning, for in You do I trust; cause me to know the way in which I should walk, for I lift up my soul to You.